I am putting my XM up for sale as funds are tight and i've just bought a BX, and will soon possibly be getting another. It's probably only of interest to Irish residents as the price will seem high to those in the UK.
Good service history
NCT until Feb 2012
Tax until May 2011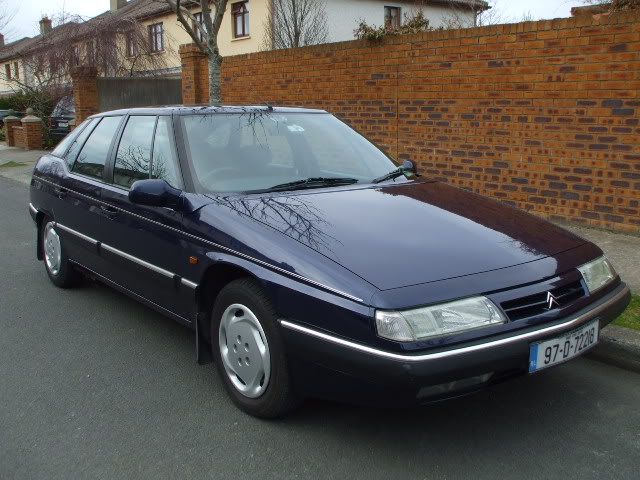 Some more pictures:
http://s317.photobucket.com/albums/mm38 ... or%20sale/
I'd be happy letting it go to an enthusiast for €2000 but have it advertised for more. This may seem like a high price to those in the UK but reflects the higher cost of cars in Ireland. On importing I had to pay €720 VRT and I've spent around €3700 in total on the car.
It is very low mileage for the year, there is only surface rust underneath, the paintwork is in particularly good condition and everything works as it should including the suspension which is nice and soft. It has been totally reliable in my ownership (nearly 2 years). There are no rattles or squeaks. The rear parcel shelf hinge has split on the left hand side but is perfectly usable.
The 16v 2.0i engine is strong and pulls well (135hp) , and the car is surprisingly economical for an auto, especially on long runs, 35-40mpg, more like 20-25mpg round town, and it will cruise all day at 100mph+ in supreme comfort.
The paintwork is particularly good, although there are a couple of imperfections which i have detailed in the photos, a couple of which could be touched up with filler / paint. I have touch-up paint in the correct colour with the car, and I could possibly have this done as part of the negotiation for the new owner. The rear driver's side light is cracked at the bottom and the front nose cone is cracked and could do with replacing for the fastidious or gluing for the practical! One of the jacking points is bent under.
In Oct 2008 the car underwent an extensive service and overhaul including new spheres all round, new LHM and new bits of trim.
Things i have had done in my ownership since then are:
front flexi brake pipes.
Xenon headlight upgrade (to sort the XM's notoriously poor factory fitted headlights)
cambelt at 48,000 miles
recent new auxillary alternator / pump belt
recent new Hydraulic fluid and tank / filters cleaned
regular oil and filter services
Two autobox-fluid changes
A new exhaust back-box section.
The Kenwood CD stereo sounds great and has USB iPod compatibility and 3.5mm jack aux in. It is controllable from the steering wheel controls.
All work apart from regular oil and filter changes (myself) have been done by Kevin Barry Motors and Grattan Motors, two of the best Citroen specialists in Dublin. When first inspecting pre-NCT, Kevin Barry said 'one of the best XMs I've seen in years'