Citroen God!
Posts: 6442
Joined: Fri Mar 11, 2011 7:38 pm
Orga / RP numbers: RP7165
1996 2.5TD saloon, Exclusive, Polar White
1992 BX19D Millesime, Sable Phenicien
Location: ex-Ealing, Cheshire, W.Sussex & Surrey. Now living in Sayalonga (Malaga, Spain)
You do not have the required permissions to view the files attached to this post.
Chris
1996 XM 2.5TD Exclusive RP7165 Polar White
1992 BX19D Millesime RP5800 Sable
1989 BX19RD Delage Red Deceased; 1998 ZX 1.9D Avantage auto Triton Green Company car 1998..2001; 2001 Xantia 1.8i auto Wicked Red Company car 2001..2003
---
Global Moderator
Posts: 12180
Joined: Thu Jun 18, 2009 6:44 pm
Hmm...white.
Go on Chris...
92 2.1SED M.RP5740 ECZ Sable Phenicien
92 3.0 V6-24.Rp 5713 EXY Black
92 2.1SD M.RP 5685 ENT Blue Sideral
Prev
90 2.1SD M.RP 5049 EJV Mandarin
92 2.1SD A.RP 5698 EJV Mandarin
94 2.1SD A.RP 6218 ERT Triton Green
91 2.0SI M.RP 5187 EWT White
---
Global Moderator
Posts: 12180
Joined: Thu Jun 18, 2009 6:44 pm
I still think Citroen should have let Huliez have a go at a cabriolet.
Citroën XM Cabriolet, 1992. The convertible XM was by Jousseau, apparently only two were converted
https://carsthatnevermadeitetc.tumblr.c ... ble-xm-was
Obviously someone else does as well.
The real thing, in progress.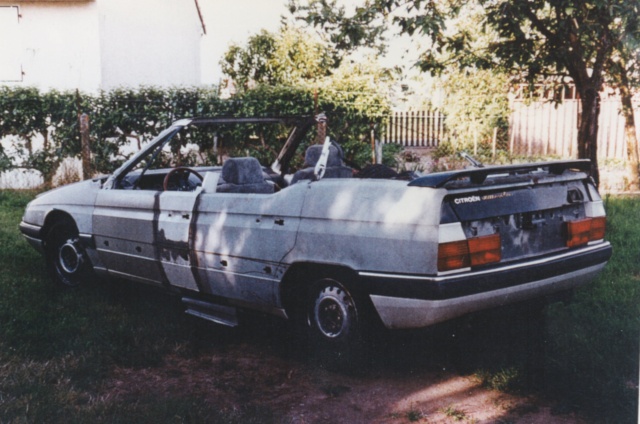 If only Citroen had sold the XM in the USA. We would have had a number of Customz by now.
92 2.1SED M.RP5740 ECZ Sable Phenicien
92 3.0 V6-24.Rp 5713 EXY Black
92 2.1SD M.RP 5685 ENT Blue Sideral
Prev
90 2.1SD M.RP 5049 EJV Mandarin
92 2.1SD A.RP 5698 EJV Mandarin
94 2.1SD A.RP 6218 ERT Triton Green
91 2.0SI M.RP 5187 EWT White
---